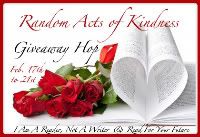 What.
What is that you say?
Another giveaway hop?
Yep, yep.
I love going around and seeing new blogs and sharing in the book love, I must say. This one is Random Acts of Kindness and it's hosted by
I'm a Reader Not a Writer
and
Read for Your Future
.
So, I am doing the same old same old, with one difference. This time it can be _any_ book of your choice of a book from Book Depository (up to 25.00 Cdn.). So, adult, middle grade, young adult, picture book! If there is a book you've really wanting to get for yourself, a family member, grand kiddo, next door neighbour...I will get it for you. All you need to do is comment and let me know the book you'd like (I love seeing what ever one else is wanting to read/buy). Oh, and make sure it is available from
Book Depository
.
Thanks for stopping by and...
Happy Hopping! << click to return to the hop list